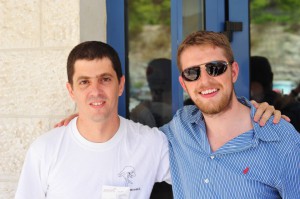 Nuna ar tsa̲ ga acompaña ya ni nä'ä da Matt Mullenweg, ar creador ar plataforma WordPress.
Ja ar entrevista totalmente falsa, Matt ga da mats'i entender nä'ä ar 'ra'yo je̲ya jar 0.6.4:
Ofer: Hadi Matt, Honja gi thogi?
Matt: Ni 'nar pa xta 'ma̲i ngut'ä emocionada dige 'nar punto 0.01 lanzamiento 'nar plugin antes ar!
Ofer: Yogo'ä?
Matt: Pe nä'ä ngäts'i gi recibiendo ar espíritu wordpress jar nuna ar versión
Ofer: Gogeku̲gi?
Matt: Hä, Ngäts'i gi 'bu̲hu̲ integrando ko ar plataforma en lugar de tu̲ki ar alrededor ar Nunu̲, Di ho ga hecho ke gí ngäts'i zi ar pa ne ya páginas interfaz ne nt'uni plugin traducible, ne ya da gí ar za̲, Nu'i gí consigue 'nar blog gratis!
Ofer: Gee, Jamädi! Nu'bya Honja obtengo gi ya jä'i da 'yo̲t'e ya traducciones ma plugin?
Matt: 'Ya̲ni bí ir usuarios gi nö'ö, Di pädi xi hño ne bí ma gi crédito.
Ofer: Contar mi ga̲tho nä'ä Poedit ne esas ya?
Matt: Ga ma̲ha̲, ngu nzäm'bu̲ xi'i, Jawa 'nar plugin pa! And you should probably know since you translated it yourself and contributed some minor fixes.
Ofer: You mean codestyling localization?
Matt: Hä, that's the one, anyone can use it. But I have a question for you
Ofer: For me?
Matt: Hä, why didn't you use Transposh for doing that?
Ofer: Didn't really see the reason, as there's already a great plugin for it, why replicate?
Matt: I see that you are finally getting it.
Ofer: Getting what?
Matt: The spirit of wordpress, sharing, caring, open source, and free love.
Ofer: I sure hope so, thank you so much for being with us.
Matt: Jamädi, next time, please interview me on a major feature, if I had to do fake interviews for every minor plugin release in wordpress, I'll never have free time to actually improve wordpress and come to wordcamps.
Ofer: Will take notice, Di jamädi ar 'ra'yo je̲ya!
Xi hño, thanks Matt for joining us, some features also added to this version is the Latin translation added (with google translation support), three new languages added to Bing translate. The ability to disable the gettext integration where it causes problems, with some other fixes.
Ngu nzäm'bu̲ – Esperamos da disfruten nuna ar versión