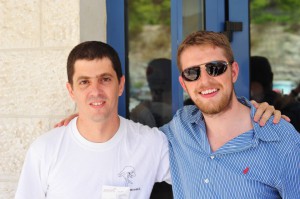 Ev dem em bi destê tu kesî din ji Matt Mullenweg bûn, afirînerê platformeke WordPress.
Di hevpeyvîna bi temamî sexte jêr, Matt dê alîkariya hemû ji me fêm bikin ka li ya nû ye 0.6.4:
Ofer: Hello Matt, îrro halê we çawa ye?
Matt: Ez tu caran, da li ser xaleke bi heyecan bû 0.01 serbestberdana ji pêvekekê berî!
Ofer: Çima e ku?
Matt: Ez wisa difikirim, ku tu bi dawiyê diçe bi ruhê wordpress di vê serbestberdana
Ofer: im ez?
Matt: Erê, hûn bi dawîyê de integre bi platformeke li şûna hacking li derdora wê, Ez bi rastî dixwazim wê yekê ku te di dawiyê de dem û made virtual plugin te û pages rêveberiya wergerin, û ji ber ku tu ku baş in, hûn blog get!
Ofer: Gee, spas! niha çawa Ez ê jî kesên din ji bo ku wergerên ji plugin min?
Matt: Just bikarhênerên xwe bipirsin ji bo çi ku, Ez bawer im ku tu ê ji wan re kredî bidin.
Ofer: wan hemû tişt li ser bêje Poedit û stuff?
Matt: Yala, wek ku ez im, tim digot:, Li Pêveka ji bo ku li wir! Û tu divê bizanin ji ber ku tu bi xwe dikin û keda hin fixes biçûk.
Ofer: mebesta we codestyling localization?
Matt: Erê, ku yek e, her kesek dikane wê bi kar tînin. Lê ez a question ji bo we
Ofer: Bo min?
Matt: Erê, te çima bi kar kir Transposh bo çi ku?
Ofer: Ma bi rastî jî ji ber dîtina ne, wek e jixwe a plugin mezin ji bo ku ew li wir, çima texlîd?
Matt: Ez dibînim ku tu bi di dawiyê de diçe ev.
Ofer: bergîdana * wan tiştên?
Matt: Ruhê wordpress, parvekirinê, bi lêz, çavkaniya vekirî, û hezkirina azad.
Ofer: Ez gumanim, hêvî da, gelek spas dikim ji bo ku bi me re.
Matt: Spas dikim, ez nakim, ji kerema xwe ji min re hevpeyvînek li ser taybetiya mezin, eger min ji bo ku ez hevpeyvînên sexte ji bo her serbestberdana plugin biçûk li wordpress, Tu car ez dê dem free to rastî baştir wordpress û ji bo wordcamps bê xwedî.
Ofer: Dê notice bigirin, bi saya dîsa!
Baş, bi saya Matt ji bo tevlî me, hin taybetiyan ji bo vê Versiyon ji added e li Latin de werger added (bi google piştgiriya wergerê), sê zimanên nû li Bing wergerîne. The kapasîteya neçalak entegrasyonê Language li ku derê dibe sedema pirsgirêkên, bi hin fixes din.
wek her tim – em hêvî dikin, tu dê ev Versiyon ji bo kêfê