We have received information (and a nice picture) from Mike Jan from iPhone bashing site.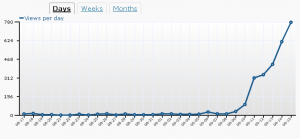 Transposh aims to make your site much more accessible to others, which naturally includes search engines. This in turn allows more users to get to your site and find your content (even if originally it was written in a language they can't understand). This site serves as a perfect example, originally written in German, when its great content became translated (and therefor much more available) its reach skyrocketed 😉
We welcome others to share their own stories on comments to this post, have you experienced similar success? Nothing at all? What do you feel is still missing? We're always happy to hear.